ABOUT THE BOOK
Art Against Assault is joining forces with illustrators around the globe to produce a self-care coloring book for survivors of sexual assault and domestic violence! Our goal is to support the survivor community by sharing a collection of ready-to-color illustrations that provide a resource to address PTSD and trauma-related symptoms through low-stress creative output.
SUBMISSIONS DETAILS

If you are interested in becoming a contributor, please email your finished work or samples of your previous work to: info@artagainstassault.com with the subject heading "Coloring Book." Format: 8.5″ x 11″ black and white 300 DPI Max Quality JPG or PDF. Publishers may re-size the image within this ratio. All proceeds from the sale of these books will go towards generating survivor resources. Printing and binding by Art Against Assault Press. Distribution provided by Not A Cult Media.
DEADLINE: Extended to July 2018
CONTRIBUTORS
Tuesday Bassen // Aurora Lady // Jenn Woodall // Shing Yin Khor // Brooklyn (Lumberjanes) // Fin Lee (Lost Boy Illustrations) // Hollis Hart // Heather Hoxsey // JB Brager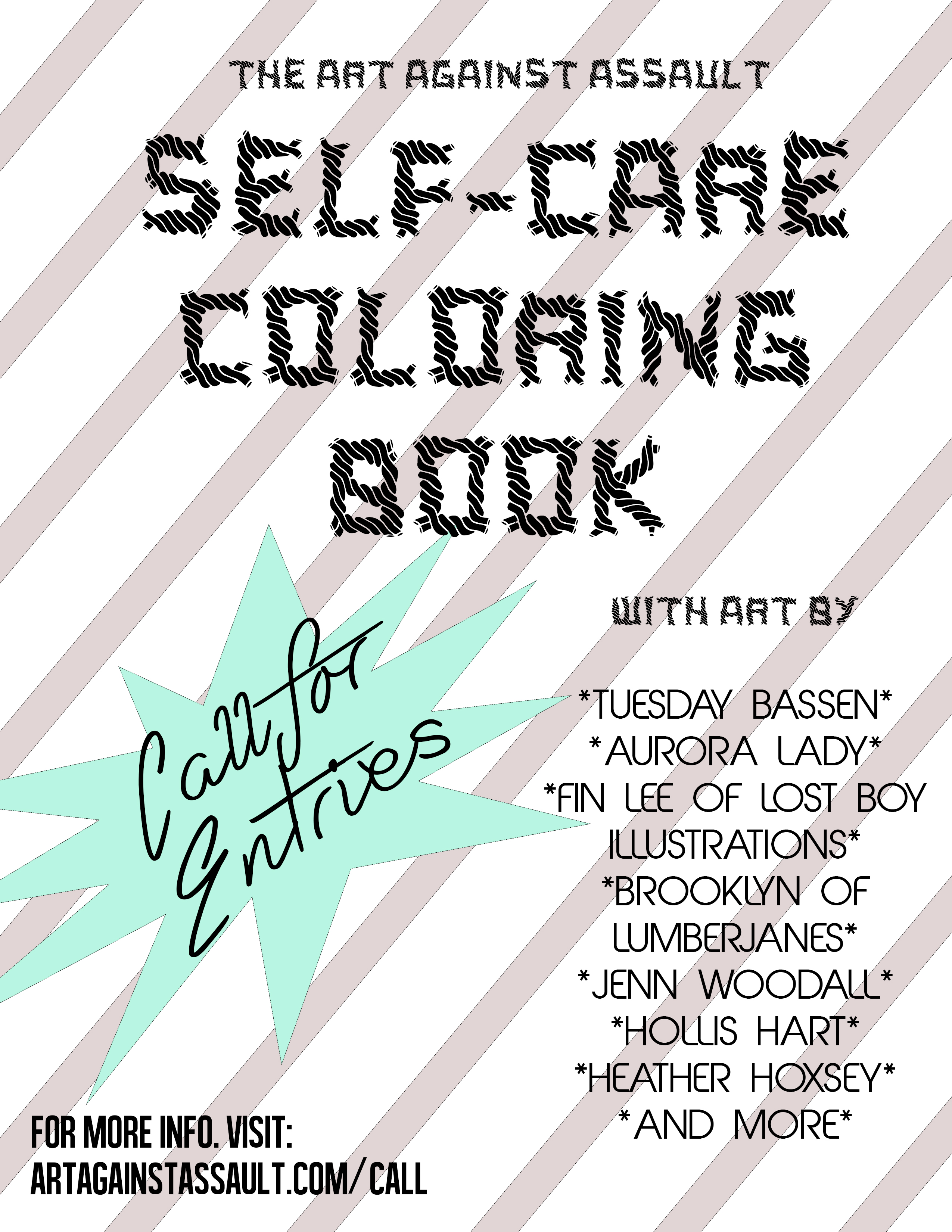 OUR GRATITUDE TO EVERY SURVIVOR ARTIST
While we cannot publish every submission in this first volume, we support every artist who is working to break the silence surrounding sexual assault and rape and thank you for your submissions. We love to hear from artists working at all levels in their careers and look forward to growing a network of artists interested in joining us in our mission to speak out against sexual assault and domestic violence in Art Against Assault projects in the years to come. To hear about future projects, please consider liking our Facebook page or signing up for our news letter.
FREQUENTLY ASKED QUESTIONS
Q: What kind of artwork are you looking for?
A: We're open to accepting any ready-to-color black and white illustrations that will fit on an 8.5″ x 11″ page.
Q: Does the artwork have to be about sexual assault recovery or self-care?
A: The artwork should be non-triggering to survivors of sexual assault and domestic violence, but does not have to be "about" sexual assault or domestic violence recovery. We're considering the act of coloring to be self-care, so the content doesn't need to directly address self-care.
Q: Where can I buy it when it's done?
A: Keep posted to our Facebook page or Newsletter for information about distribution. We expect to have completed the book by the end of 2018.
Q: Will you be accepting submissions for a second edition following 2018?
A: We'd love to, but our ability to do so depends on the support we get for this first edition. So if you love this idea, please share this project and support it!